A friend of mine tells me that he reads my blog because he thinks it's fun. But he especially likes it when I bare myself by sharing my heartbreaks. Man! What kind of person will get pleasure from seeing someone else's heart break? You perv you! I'm just kidding Elmer. I appreciate that you drop by every so often to witness my rollercoaster of emotions. Believe me, I'm still holding back a lot. You will not survive this day if I let out all that are inside my chest. That'll be apocalypse unleashed. Anyway, to sate your craving for raw emotions, here's a collection of raw emotions straight from my heart. One of these is a poem from WB Yeats, a few are text messages from friends, and most of these are text messages that I wrote myself but remained unsent. I guess this is the next best thing to actually sending them.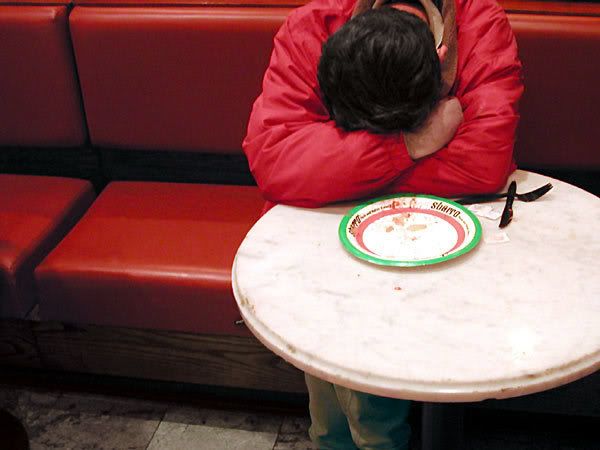 When You Are Old
WB Yeats

When you are old and grey and full of sleep,
And nodding by the fire, take down this book,
And slowly read, and dream of the soft look
Your eyes had once, and of their shadows deep;

How many loved your moments of glad grace,
And loved your beauty with love false or true,
But one man loved the pilgrim soul in you,
And loved the sorrows of your changing face;

And bending down beside the glowing bars,
Murmur, a little sadly, how Love fled
And paced upon the mountains overhead
And hid his face amid a crowd of stars.

---

The hardest thing to do when you are in love is to realize that your love will never be enough and you have to let go. But when you think about it, accepting this reality means you've truly loved. That should be a comforting thought. And when letting go hurts so much, you could at the least rest assured that it was well worth it.

---

When does one stop loving? When he gets hurt? When he is jealous? When he doesn't trust? When he finds someone else? When he is not worthy? The answer is simple. When you truly love, you don't stop.

---

Swerte sa career maski malas sa love life? Nagkataon lang siguro. Di ako naniniwala sa swerte. Pero naniniwala ako sa hard work. Nagkataon lang na nagsipag ako sa trabaho at sa pag-ibig nagkulang ako. Next project ko siguro yun. Pero matagal pa yun. Di ako sapat.

---

Why do relationships have to be disposable?

---

I hate the feeling every time I hear my phone ring. I get excited, wishing it's you. But I just hurt all the time because it's not you and it's unlikely that it will be you. You died. I have to live with it.

---

"There is a certain desperate loneliness about two parallel lines that will never meet within the same plane." So we are parallel lines on a single plane. I'd bend the rules if I had my way. I love you but does it have to be this hard?

---

I feel so bad about the fact that you are not mine anymore just when I think I totally understand you. I'm sorry that I wasn't worthy of another chance. I love you and I'm sorry that I still do.

---

If I had my way, I'd keep you in my arms. I'd kiss you tenderly before I sleep and when I wake up. I'd hold your hands when they are cold. If I had a choice, I'd choose you again anytime even if I know you'd shatter me again. I'd rather love you and lose you than not love you at all.

---

I call out in the darkness of the night, hoping that the ears of your heart hear what its eyes refuse to see. I love you. I am your sad and happy. I am your rich and poor. I am what your heart needs. I love you.

---

Mahalaga ka. Di ka damit na pinaglumaan na basta na lamang huhubarin kung napagsawaan na. Kung di ka nya mahal, ikaw ang magmahal sa sarili mo. Mahalaga ka.

---

When you fall in love, you just fall one way—flat on your face.


Note: Writing my feelings down is an effective outlet for me to manage my emotions. Some of these emotions, however, have expired already. I am blogging all these for documentation.