This girl Rica, 25, wants to be one. Here's a portion of the employment exam she took.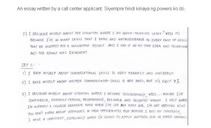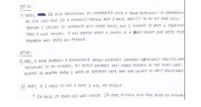 The text is too small for you to read. Here's the transcript:
2.) I describe myself about the situation where I am quick-thinking skills? Well it's because I've so many skills that I know and knowledgeable in every part of skills that be allowed for a successful result. And I did it on my own idea and technique and the result was excellent.

SET C:
1.) I rate myself about conversational skills is very frankly and sincerely.
2.) I rate myself about written communication skills is not bad, but it's only 7%.
3.) I describe myself about situation where I become successful, well... maybe I've confidence, friendly person, responsible, reliable and talented woman. I felt when I'm already a college graduate then when I've got my first job, I'm get nervous b'coz you don't know about attitudes in your officemates but before I end my contract, I have a confident, especially when I'm going to apply another job in other company.

SET D:
1.) Well, I'm also successful to cooperated with a team especially in leadership as I've said that I'm friendly person and I have ability to do my own skills before I success to cooperate with other teams, but I achieve to have a teamwork then it was success. It was happen when I joined in a band group and we're five members and we're all female.

SET E:
1.) Yes, I have already a experience about internet chatting especially sending email messages to my friends, my eldest brother and other friends in far away land. Almost 10 months when I work in internet cafe but the salary is only negotiable.
3.) Okey, if I need to win a date I will ad myself
"I'm Rica, 25 years old and single. I'm pure Filipina with a real blood of Bicolana."
Rica, if you're reading this, good luck. Your "frank and sincere conversational skills" may not get you the call center job but I'm sure your perseverance will bring you somewhere.