I hate cleaning my room because I always find things I'd rather lose. But my college yearbook turned out to be a different story. After dusting the blessed thing (and after giving my allergic rhinitis a not-so-gentle tug), I lay in bed laughing my guts out looking at the goofy faces of batch 95 of the UP College of Mass Communication. And the tsunami of memories just all came rushing back in!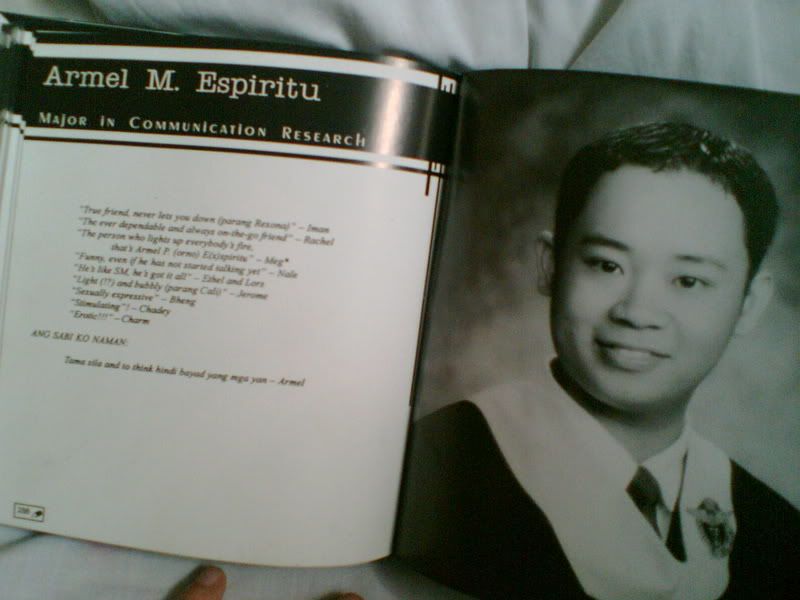 Of course the first page I'd look for is my page. Tangna! 6 years was a long time indeed! Look at all the weight I lost!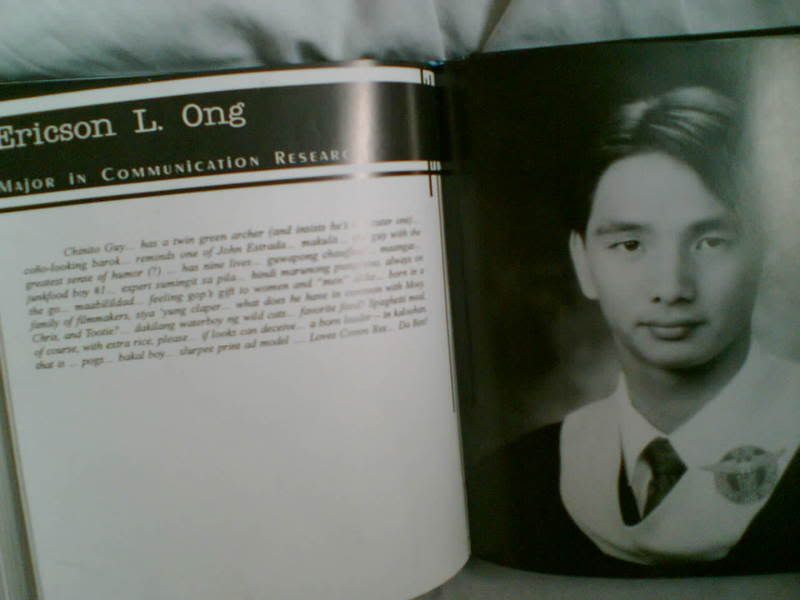 Now these three guys were (some) of my big time college crushes. Syempre they didn't know! One of the good things about college is that you can behave like high school coeds all you want without getting flak for it. The top guy's cuter in person. But the next one's moreno looks gives him an irresistible sex appeal. The last guy's boyish charms are disarming.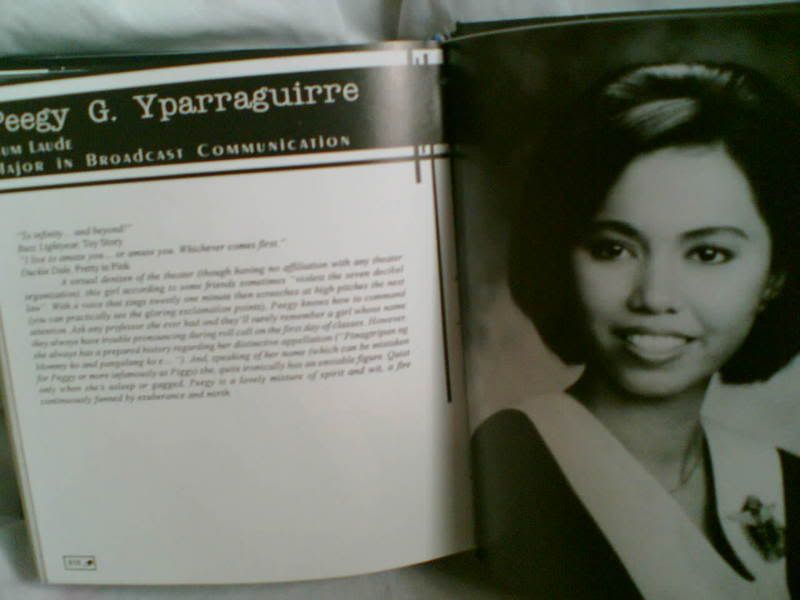 This girl I remember oh so well because of her unique name. She's called Peegy. Not it's not pronounced "piggy." Say the last syllable with a "j" sound. Peegy. Oink.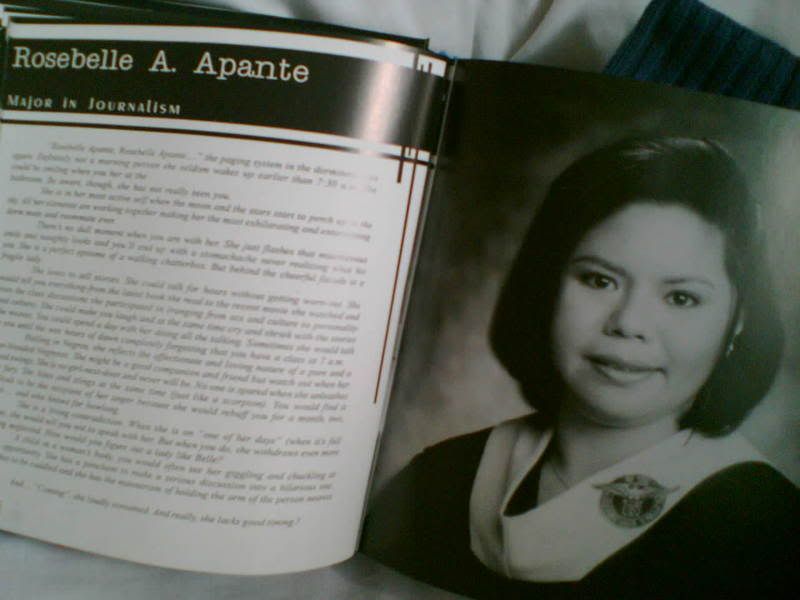 This girl I never realized I actually worked with until yesterday! But she's resigned now.


These next pictures are some of the more recognizable of the batch since they're working (or have worked in some cases) on national TV.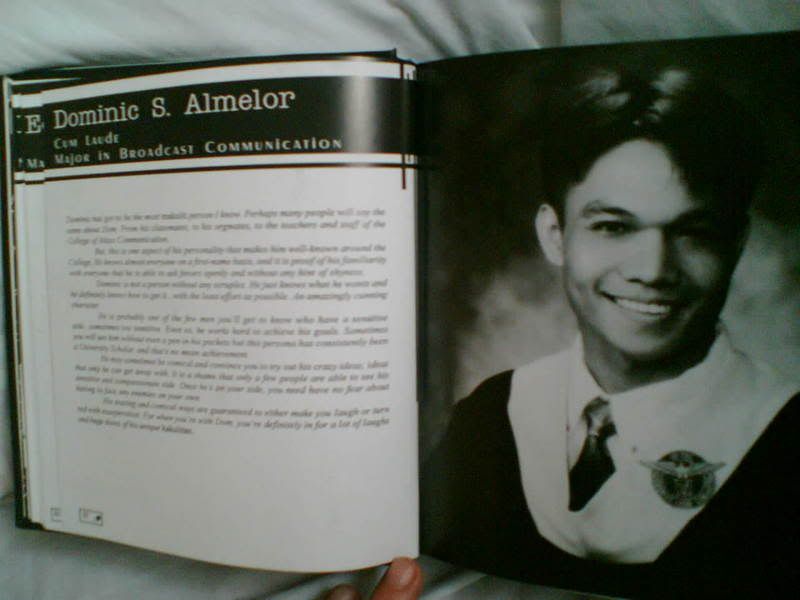 Channel 2 TV reporter Dominic Almelor



Director Lyle Sacris



Channel 5 TV reporter Anne Pineda (I don't know if she's using another name.)



Karen Padilla used to be a TV reporter for channel 2. She was my classmate in, ahem, ballet.



Channel 7 TV reporter Carlo Lorenzo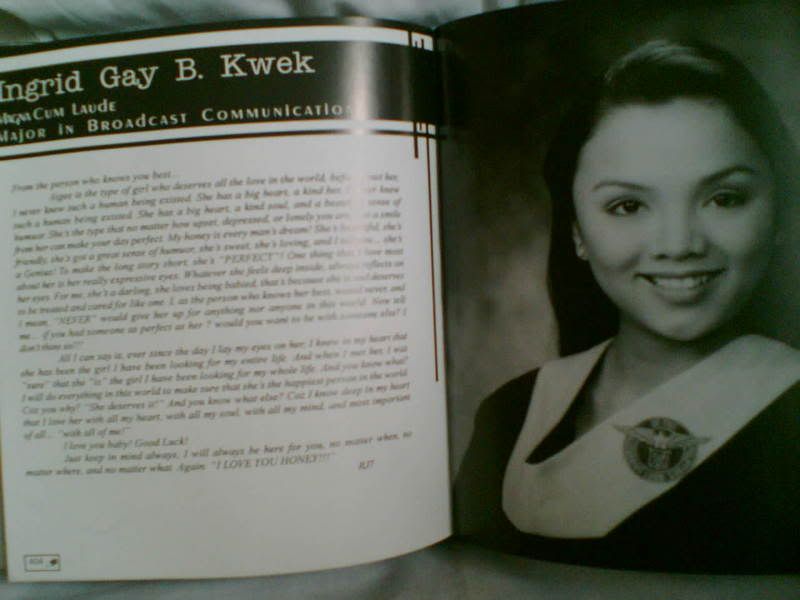 And who doesn't know Ricky Kwek? She used to work as a newscaster for Channel 2 before, i heard, she got married. She was the unanimous winner of our college yearbook's "Most Likely to Become a Socialite."