Who says that our competency in English has declined? Check out the set of rules and regulations of a certain Isla Beach Resort. The image I got from the email.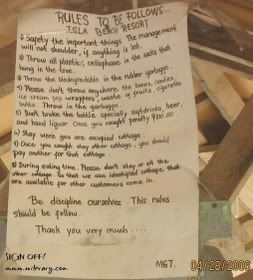 Rules to Follows
Isla Beach Resort
1. Safety the important things. The management will not shoulder, if anything is lost.
2. Throw all plastic, cellophane in the sacks that hung in the tree.
3. Throw the biodegradable in the rubber garbbage.
4. Please don't throw anywhere the bones, candies, ice cream pop wrappers, waste of fruits, cigarette butts. Throw in the garbagge.
5. Don't broke the bottle specially softdrinks, beer, and hard liquor. Once you caught penalty P100.00.
6. Stay were you are occupied cottage.
7. Once you caught stay other cottage, you should pay another for that cottage.
8. During eating time. Please don't stay or sit the other cottage. So that we can identified cottage that are available for other customers come in.
Be discipline ourselves. This rules should follow.