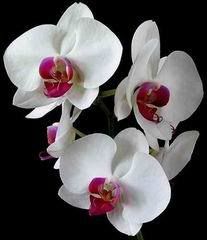 The White Moth Orchid with Red Lips is one of the most long-lasting orchid blossoms in the world. The 6 flowers in full bloom symbolize the resilience and strength you've shown in the last 6 decades of your beautiful life. And the 4 buds, they are our wish for you to continue spreading the gift of your love for more decades to come. This replica of the White Moth Orchid was made specifically for you. It was meticulously handcrafted from delicate glass beads, your gentle love, and Swarovski crystals that are as pure as your soul.

Orchid Poem

By Chris Barnes

Seated with sweet scented lap
Your hand beckons me as
Beauty becomes your face
Eyes a million stars sparkle
Long lasting love, your lips
Teasing taste, your tongue tempts
As fluted frilled petticoats
Smile pointing pure symmetry
Symbolic of most feminine place,
In my dreams flower lady
You feel first firm embrace.