The youth today will only get to know her as one of the judges in the Philippines' spin-off of the worldwide hit Idol series. I remember her so well because I used to watch her show with the Reycard Duets back in the early 90s. And her affiliation with Kuya Germs and her frequent appearance in GMA Supershow (It's the SOP or ASAP of the 80s. Juice ko I feel ancient!) made her quite familiar to my then young (emphasis on the young please) mind. It's not exactly Pilita Corrales overload (I had Lotlot, Manilyn, Sheryl, and Tina too). She wasn't as famous anymore as she was during her heyday as Asia's Queen of Songs but when you're a superstar once, it kinda sticks to you even after all the glory has passed. Anyway, this morning my Rafiki was reading an article about her in the entertainment section of http://www.philstar.com/. It was about this accident she had while doing a concert in the US. It wasn't really juicy chika but the way the story was told by a first-hand witness was pretty graphic and entertaining. Here it is:
Last Wednesday (July 26), Funfare put out the "scoop" story (Pilita: The fall that refreshes) about how Pilita Corrales fell from the stage while singing her first song during the last leg of her US concert tour in Sacramento, California (after shows in San Francisco and Las Vegas). Pilita was given a "clean bill of health" (meaning no broken bones) by a US doctor before she came home Monday last week for her show Riot sa Music Museum last Saturday night with Elizabeth Ramsey.

Pilita told Funfare the other day that she still suffers from "unbearable pain" in her back but is otherwise okay.

Here's an eyewitness account of that Sacramento incident from Bernardo Bernardo who front-acted for Pilita's show:

Ricky, minor correction. Pilita's almost-Brokeback Incident happened last Saturday, July 22, at the Sacramento City College Auditorium and the stage level was three feet from the cement floor, not seven. Still very dangerous. And were it not for Pilita's La Gitara hips and daringly slit sequined gown, the acrobatic tumble could have cost her a hip replacement, a cracked rib or, even possibly, a slipped disc. But true to form, Miss Corrales is materiales fuertes!!!

I was the wacky front-act for our Living Legend ("Myth pa po ako," I might add), and Asia's Queen of Song was doing her first medley with eyes closed amid lusty applause, inching into her classic sidebend ("Dahil mapagbigay ang mga Cebuana," she averred). The audience loved it and gave her a thundering ovation. She stood there, in the dark, isolated by a naked spotlight, standing very close to the edge of the stage. Playfully, she parted her slit gown and asked, "Do you like my legs?" The audience roared its approval. Then in the blink of an eye, she stepped over the edge.

The scream of the audience was deafening. Everyone was stunned. And, indeed, Miss Corrales was on the floor a good 10 minutes before people rushed to help her. Finally, the lady got the microphone that had rolled away during her fall, slowly stood up and announced: "I'm fine. The show will go on." Wild applause.

It was classic theater.

Miss Corrales refused a stool that was offered her, gamely pacing the stage for the rest of her repertoire of Pilita classics. It was "An Evening with Pilita" to remember. If anything, after the dreadful fall, everyone's adrenaline was up and Pilita was wonderful and the audience loved her. She even danced a mean cha-cha with me during our Sway duet. The audience howled with delight when she did her undulating pre-Shakira moves.

Punchline: Earlier, I sang Modelong Charing which had me shouting "Darna!" several times so, I couldn't help but say to Pilita, much later, onstage: "Ikaw naman, Pilits, ako ang sumigaw ng "Darna! Bakit naman ikaw ang lumipad?!"

After the show, the photo op, autograph-signing and CD sales at the lobby were phenomenal. The very concerned producers (Donnie and Cecilia Pestrana) drove us back to Hotel Nikko. We spent the ride back to San Francisco talking, with Pilita's trusted Esther regularly replacing ice packs on her still painful back. Legends never ran out of deliciously intriguing and enchanting stories, and Pilita had quite a lot of colorful and breathtaking stories to share. We even talked about a possible musical about her life, maybe even a well-researched biography. After all, her career, much like another iconic performer, Dolphy, spans the best of stage, radio, TV and film.
Above the glamour, the triumph, and the pain, Pilita is still one fantastic talented lady. Truly one of a kind.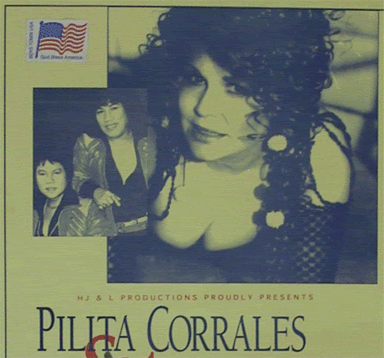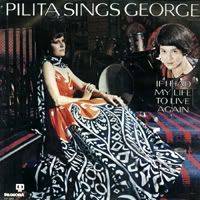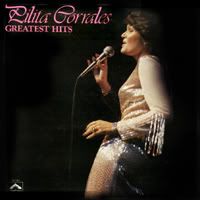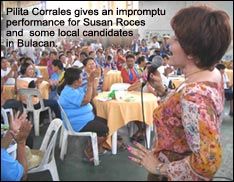 By the way, Pilita is 67 years old. Pilita Corrales mp3s anyone?